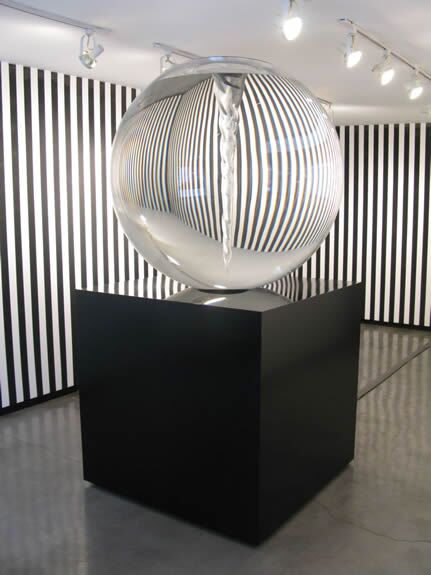 Vanishing Point 2013

Turbulence exibition, Curated by Pierre Sterx and David Rosenberg at the Louis Vuitton Foundation, Paris.
Paul Kasmin Gallery , New York
Animated with at once a furious and sedating rhythm, by an ever-changing vortex at its core, Vanishing Point is one in a series of sculptures in constant, but variable motion: both static and fluid, dynamic and stable. Taking liquid curvature as its subject, this kinetic sculpture comprises a vast bell jar filled with a mercurial liquid which acts a 'crystal ball', consuming and reconfiguring the landscape in which it arrives. Conceived in the city for the city, Vanishing Point seeks to develop a dialogue between architecture and sculpture; it is a liquid lens through which human architecture is compressed, distorted—liquefied—acting as an interface between the solid forms of the cityscape and the public's daily flux.